InnoScot Health focusses in on ophthalmic innovation with new call
InnoScot Health is seeking forward-thinking ophthalmic solutions that can help support NHS Scotland to strengthen and make meaningful change in this priority area of its recovery plan
Encouraging NHS Scotland's diverse workforce to come up with new ideas that achieve better outcomes in pressured ophthalmology is vital and is at the heart of InnoScot Health's latest innovation call.
During the pandemic, this was one of the health care areas which suffered most as patients were unable to see ophthalmologists and optometrists for face-to-face appointments so waiting lists and backlogs grew.
This in turn meant that individuals with eye problems saw a worsening of their condition over the course of the pandemic and it is only now that we are beginning to see a return to normal practice.
However, there remains a significant accumulation of people still requiring treatment and so encouraging the diverse NHS Scotland workforce to come up with new ways of working and identifying ways to reduce that backlog is vital.
InnoScot Health has worked in partnership with NHS Scotland since 2002 to inspire fresh ideas from the 160,000-strong workforce. Its team will rapidly assess and support selected innovations from concept to final product.
For those answering the call, the package of support for health and social care staff with ideas to innovate in ophthalmology includes £25,000 of initial funding, regulatory support, project management, and the innovation expertise of InnoScot Health.
Submitting your idea is a simple process – taking approximately 5-10 minutes – and all are confidential.
InnoScot Health's Head of Innovation, Robert Rea said: "There are few areas of healthcare that have been as dramatically affected across the last few years as ophthalmology, with the pandemic increasing waiting lists, storing up significant health problems for patients, and placing considerable pressure on staff.
"That's why our call is so important at this time – to advance innovative eye care solutions for important unmet needs and improve the lives of people living with vision loss and eye disease.
"Innovation has the power to unlock fresh, inspired solutions that can tackle issues head on and lay the foundations for further positive change in diagnosis, treatment, and prevention.
"InnoScot Health is seeking ophthalmic innovations from any health board and any role or medical discipline, so if you have an idea, then please do get in touch with our team of experts.
"We are particularly looking for innovations that have commercial potential – ones that can be developed as a new product and generate income.
"Innovation in this area is very often, though not always, a new medical device, but could also be an accessory of some sort or a training tool such as an educational board game.
"We also evaluate digital solutions such as forward-thinking apps, and where innovators come to us with ideas relating to new processes or services, we endeavour to identify the most appropriate partner agency to support it and take it further forward.
"Inventions that are co-developed with non-NHS parties can also be supported by us as long as there is a defined NHS input/staff member involved in the project."
Watch our ophthalmology call briefing event
Our online briefing event gave attendees more information on our latest themed call.
Coinciding with World Sight Day, it offered a deep dive on the aims, and reasons behind, the ophthalmology call, and laid out the support available to health and social care staff submitting their ideas.
InnoScot Health has worked with NHS Scotland innovators numerous times over the years on ophthalmic innovations including Peekaboo Vision, an app created by NHS Greater Glasgow and Clyde, Multifocal Retinal Imager, developed in collaboration with Wideblue, and the iGrading platform, a diabetic retinopathy screening tool developed by InnoScot Health, working with NHS Grampian, the University of Aberdeen and Medalytix Ltd.
Dr Iain Livingstone, ophthalmologist at NHS Forth Valley, said: "Personally, I see a major change in the transition from 'light of sight' technology to digital presentations. There has been some fledgeling work around a new optical system for the slit lamp – a microscope with a bright light used during an eye exam – that is applicable to examination, surgery, and 3D transmission. Apple meanwhile is set to announce a headset that has more processing power than its top MacBook, and Meta is set to update its Quest 2 headset. I see ophthalmology leaning on mixed/virtual/augmented reality for examination and surgery over the next 10 years.
"Across NHS Scotland, rising patient demand is a major issue, and it's no different in ophthalmology services. To be able to expand and improve the services that we offer, new ideas and innovations will be key to the overall provision of health and care.
"NHS Scotland has a diverse workforce, innovative ideas from which the quality of care we provide can be improved by virtue of having real, first-hand experience of patient's needs. InnoScot Health's remit includes support on taking ideas forward."
Some of the main areas of concern are around Diabetic Retinopathy, Age Related Macular Degeneration (wet and dry), Glaucoma and Cataract which account for the majority of outpatient appointments.
Professor Roshini Sanders, Ophthalmology lead at the Chief Scientist Office for NHS Research Scotland added: "The NHS is currently challenged with massive backlogs.
"Those with chronic long-term eye diseases such as glaucoma accounting for over 60,00 patients in Scotland stand to lose vision with delayed appointments.
"However, this call could provide new ways to innovate our way through those significant backlogs and identify meaningful solutions."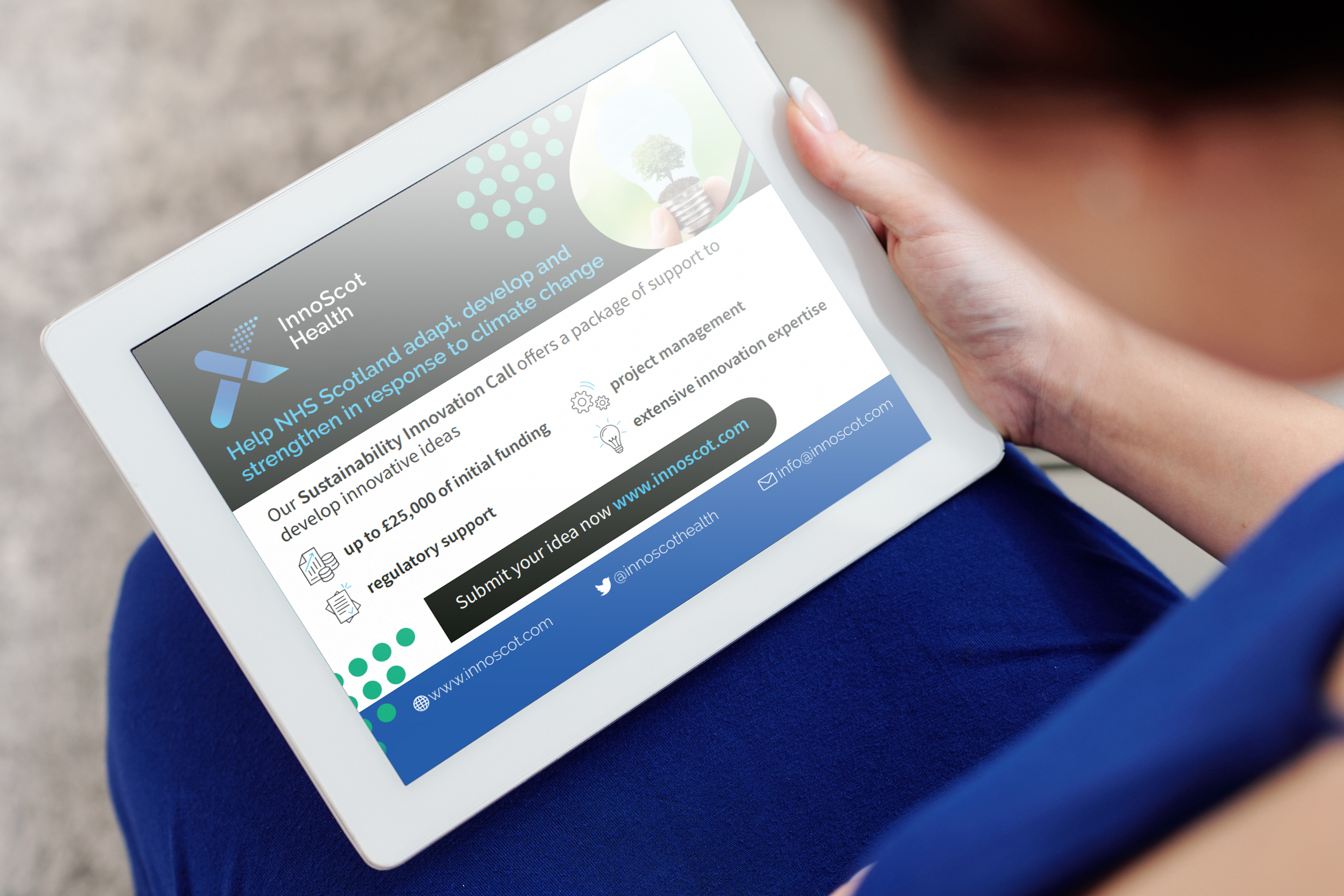 View our support
The behaviours of NHS Scotland's 160,000-strong workforce will influence how the service mitigates and adapts to ophthalmic backlogs and heightened pressures; and so, encouraging this diverse workforce to come up with new ways of working is vital.

The package of support for health and social care staff with ideas to support NHS Scotland includes £25,000 of initial funding, regulatory support, project management and the innovation expertise of InnoScot Health.