Pregnancy and Perinatal

Innovation Call
InnoScot Health is seeking forward-thinking pregnancy and perinatal care innovations that can help support NHS Scotland to improve women's health. It's an important area with vast opportunities to improve the outcomes of maternity and neonatal care for all women, babies, and families and place more focus on mental health and inequalities.
Encouraging NHS Scotland's diverse workforce to come up with new ideas that achieve improved outcomes in this area is at the heart of InnoScot Health's latest innovation call.

Our Support
InnoScot Health believes that identifying ideas drawn from the deep expertise and experience of NHS Scotland's 160,000-strong workforce can improve how the service provides the right care for every woman and baby, while giving all children the best possible start in life. Inspiring this diverse workforce to come up with new ways of working is vital.
The package of support for health and social care staff with ideas to support NHS Scotland includes up to £25,000 of initial funding, regulatory support, project management and the innovation expertise of InnoScot Health.
Watch our innovation calls webinar
Our Innovation calls and challenges to support NHS Scotland webinar gave attendees more information on the pregnancy and perinatal call.
It offered a deep dive on the aims, and reasons behind, our calls, and laid out the support available to health and social care staff submitting their ideas.
The attendees heard from members of the InnoScot Health team, as well as expert in the field, Dr Neil Patel, Clinical Lead at the West of Scotland Innovation Hub and Consultant Neonatologist at Glasgow's Royal Hospital for Children.
I fully support InnoScot Health's drive for improvement through identifying ground-breaking ideas from NHS Scotland staff – the people who understand everyday issues best.
Dr Neil Patel, Clinical Lead at the West of Scotland Innovation Hub and Consultant Neonatologist at Glasgow's Royal Hospital for Children
Frequently Asked Questions
How many projects will be supported?
There is no set limit. The intention is to rapidly assess all submissions and fast track those with potential. Pregnancy and Perinatal care is a key area for NHS Scotland and we want to harness the talent and experience of all those working in the NHS to improve the quality of care received by patients while also trying to heighten operational efficiency where possible.
What ideas are you looking for?
All ideas are welcome – from simple to complex, and from any health board and any role or medical discipline.
Innovation in pregnancy and perinatal care is very often, though not always, a new device for managing and monitoring pregnancy.
We also evaluate innovations to improve labour and delivery, and technologies for neonates needing specialist care. Improving outcomes for mothers with co-morbidities especially around diabetes is a further priority, as is support for women experiencing mental health problems before and after delivery.
Where innovators come to us with ideas relating to new processes or services, we endeavour to identify the most appropriate partner agency to support it and take it further forward.
We are particularly looking for innovations that have commercial potential – ones that can be developed as a new product and generate income.
Inventions that are co-developed with non-NHS parties can also be supported by us as long as there is a defined NHS input/staff member involved in the project.
Why has pregnancy and perinatal care been chosen?
Encouraging NHS Scotland's diverse workforce to come up with new ideas that achieve better outcomes in pregnancy and perinatal care is vital and at the heart of InnoScot Health's latest innovation call.
It is essential that we improve the outcomes of maternity and neonatal care for all women, babies, and families in Scotland, while placing more of a focus on mental health than ever.
Innovation has the power to unlock fresh, inspired solutions that can tackle issues head on and lay the foundations for further positive change in diagnosis, treatment, and prevention.
We need to advance innovative pregnancy and perinatal solutions for important unmet needs and improve the lives of every woman and baby.
What funding is available?
InnoScot Health is offering initial and rapid 'kick start' funding allowing promising innovations to be fast-tracked with additional funding leveraged as needed to support development, testing or manufacture. InnoScot Health has years of experience in leveraging additional funds from organisations such as Scottish Enterprise, Innovate UK, EU and private investment community.
InnoScot Health can offer funding and support for NHS projects and our focus is making new devices available via commercialisation. This ensures that not only the best new healthcare products reach the market and improve patient outcomes but also create some profit for the inventor and their health board employer.
Can the general population put an idea forward?
In simple terms, yes. InnoScot Health has worked in partnership with NHS Scotland since 2002, protecting and supporting NHS initiated ideas, but we also assess and support ideas from students, members of the public, start-ups, SMEs and established companies that would benefit from collaboration with the NHS.
New ideas are central to the improvement of sustainable patient care. It's true health and social care professionals are extremely busy but they also have incredible knowledge, expertise and first hand experience of the NHS, how it works, and how to make things better. It is InnoScot Health's mission to provide the right encouragement and support, to attract and develop these ideas.
A simple online submission form captures the idea, and the InnoScot Health team will then work closely with health professionals to develop the innovation. The team has always worked in this way, managing projects that would otherwise be difficult for health and social care staff to balance with personal or clinical commitments.
How long until proposed solutions will be available/used?
This will vary by project and depends on many factors, including complexity, stage of development, and funding requirements.
InnoScot Health has an established pathway for projects, but also has the capacity to act quickly on new ideas with immediate relevance. The initial steps couldn't be easier – make a submission using our online form.
This short form needs you to submit your basic information, the concept, and then your idea will be evaluated by our team, who have years of experience in healthcare development and regulation.
Who will assess these ideas?
The innovation team at InnoScot Health will assess and support selected ideas from concept to the final product. The team has over 20 years of experience evaluating ideas from health professionals.
What is the assessment criteria?
An established criteria exists including the viability of the idea, regulatory considerations, commercial feasibility, clinical evaluation and technical considerations. These will be flexible and proportionate to the urgency and need for the idea.
What other support is available?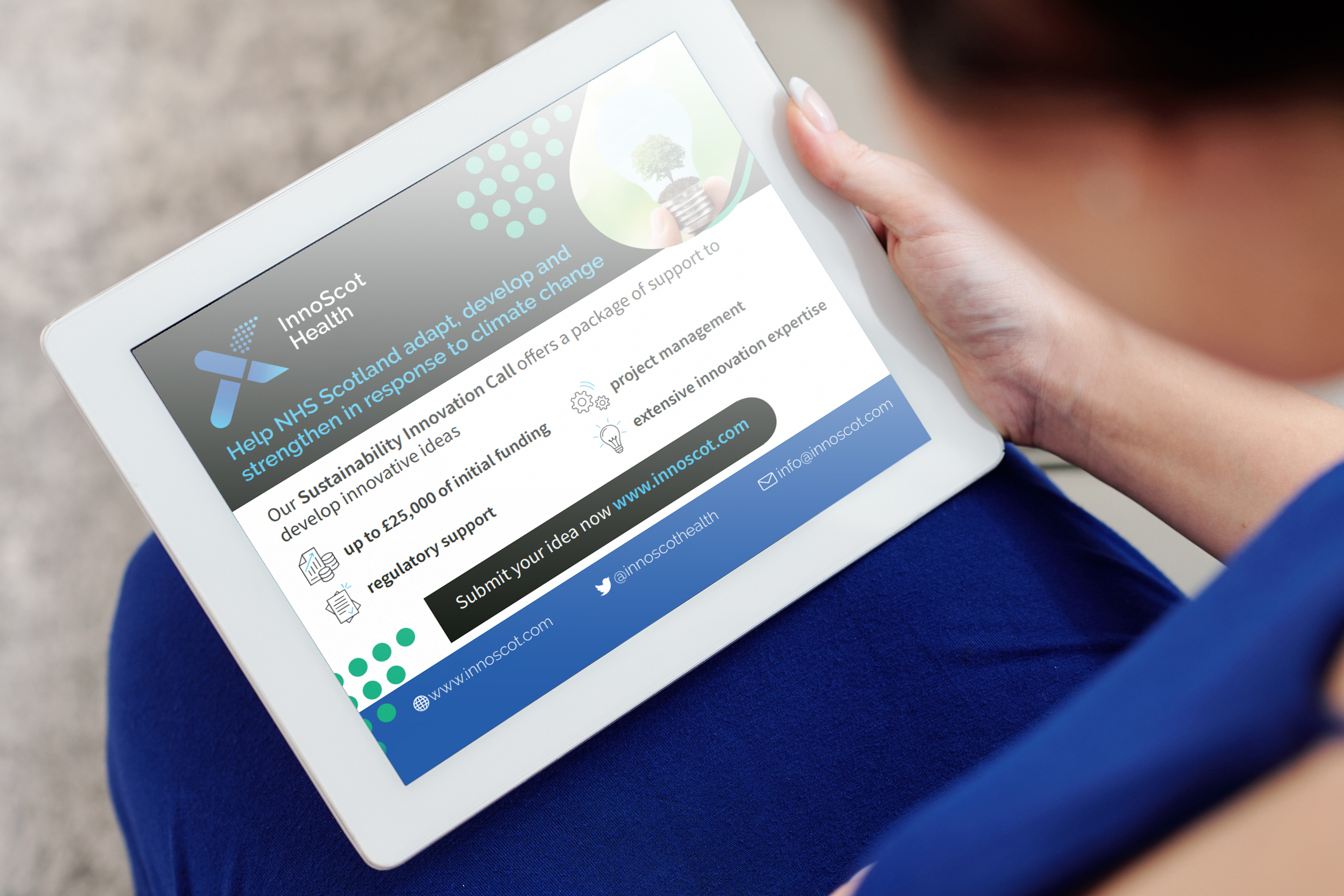 Our themed calls are a direct response to areas of health and social care that are ripe for innovation. Targeted at specific areas of need, these calls focus attention and inspire new thinking, new ideas and new approaches.